Coating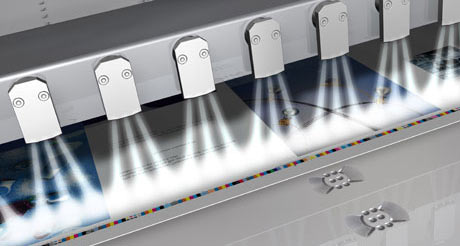 Description
Coatings are applied to print projects for a number of reasons, but generally they are used as a protective layer to guard against document wear and tear or as a means to strengthen colors and sharpen graphics. There are a variety of different materials that are used as coatings for digitally printed applications (as well as for applications printed conventionally). Among the most popular coatings for printed products are overprint varnishes, aqueous coatings, UV coatings.
Overprint Varnish
Applied during the printing process or as an off-line process, overprint varnish is much like a solvent-based ink. The varieties of overprint varnish are usually colorless, but sometimes they are tinted to achieve a desired effect. Varnish can be applied as an all-over coat or in spots to highlight a specific area of a printed piece. Overprint varnish is available in glossy, Satin, matte finishes.
The varnish coating allows the document to remain intact for a longer period. An all-over coat of satin varnish will protect the printed surface without drawing attention to the fact that varnish was used for protection purposes.
Aqueous Coatings
An aqueous, or water-based, coating is usually applied during the printing process and can be applied as an all-over coat or in patterns or spot coatings. Like varnishes, an aqueous coating offers protection for print products and it provides numerous visual effects for print applications. Aqueous coatings are available in gloss, matte, and satin finishes.
UV Coatings
UV coatings come in liquid or paste forms and remain as a liquid or paste until exposed to ultraviolet light. When the printed page is covered with the UV coating and is then exposed to the UV light, photoinitiators within the coating react immediately, creating a hard protective finish on the printed product. Ingredients called monomers provide gloss and hardness characteristics to the UV coating. UV coatings, which are also known as energy curable coatings, provide the best surface properties and offer the best protection for printed surfaces.