Perfect Binding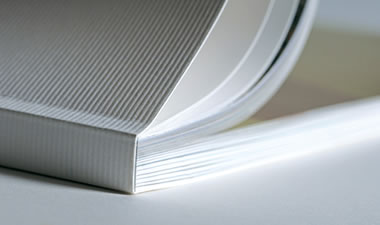 Definition:
Perfect binding is well suited for use with books, thick magazines, annual reports, technical manuals, and catalogues. From a minimum thickness of approximately 3mm, it works well with a wide range of document thickness and trim sizes.
To produce a perfect-bound document, the folded signatures are gathered together in page sequence, clamped together, and placed in a machine that slices about 3mm off their left edges. Then roughers mill the newly sliced sheet edges to prepare them for gluing. Finally, the edges receive an adhesive application and adhere to a backing.
What is it used for?
Commonly used for Price Lists, Magazines, Brochures, Catalogues, PLOF, Books, Parish Plans, Town Plans At What Point do we do it? Perfect Binding is a print finishing process (after printing).
How do we do it?
The pages and printed sections are gathered in order, spine milled (the spine is ground to provide a key), and held together with a hot melt adhesive. A cover (usually on a heavier paper weight) is attached to the spine and is formed around the book.
More about... The minimum thickness of a perfect bound print job is approx 3mm (around 48pp). The maximum thickness is 50mm.