Envelopes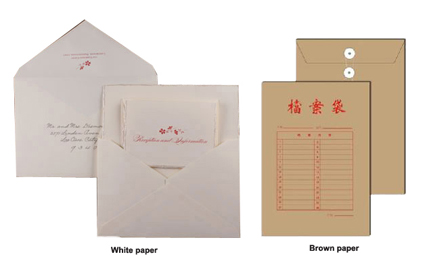 Product Description
Are you printing your own envelopes on your inkjet printer? Are you sticking labels with your return address? Isn't it time to step up to the plate and add the professionalism to your business that's associated with professionally printed envelopes to portray your corporate logo and address?
Whether you need printed #10 Envelopes or Printed Envelopes for your Christmas Greeting cards, note-cards, or thank you notes for your home or personal stationary, our pricing makes it affordable and our graphics design department can assist with your customized Envelope Design to incorporate your logo and style.
Choose from Black only ink or Full color, and Spot Color Envelope Printing.
Choice of paper from 100gsm to 140gsm uncoated white wood-free paper or brown paper
Paper is compatible with laser and ink jet printers.
Envelopes can be ordered with matching letterhead stationery to complete your corporate identity .
Available with 5 standard sizes including: #2 Envelope(176*125mm),#5 Envelope(220*110mm), #6 Envelope(230*120mm), #7 Envelope(229*162mm), #9 Envelope(324*229mm),
Don't see the size you are looking for? We can get it for you! We can make almost any size you will need, just ask us.