Magnet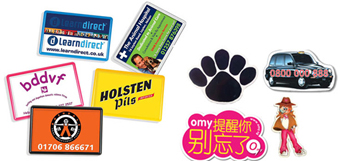 Product Description
Every kind of custom magnets and fridges magnets – at affordable prices!
We promise to be your best value source for quality printed custom magnets; including fridge magnets. Great custom magnets value from us includes lots of options, tons of design choices and terrific service all at great prices. We keep your custom magnets affordable by printing them with the right printers.
When you need four color custom magnets, we use low–cost four color digital printers. When you need just one or two colors, we use traditional printers designed just for the job. We also keep your costs in–line by offering you specially developed materials that meet different custom magnet project needs.
Applications
Here are just a few of the many styles of custom magnets and fridge magnets we offer:
Fridge Magnets For Calendars
Business Card Shaped Fridge Magnets
Picture Frame Fridge Magnets
Unusual Shaped Fridge Magnets
Outdoor Custom Magnets