Letterhead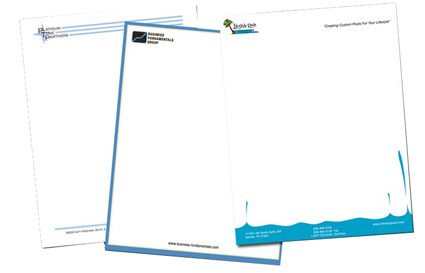 Product Description
Letterhead is the foundation of your professional business identity. We can produce beautiful, full color prints on the front and back of your letterhead printing project. Uncoated paper is standard for ease of printing on your office inkjet printer and also ease of writing with a ballpoint pen.
We can even shrink wrap your project in increments as small as 50 sheets. So order your letterhead project today from us to complete your business literature with a professional appearance.
A complete brand identity package always includes letterheads. Invoices, receipts, or any formal correspondence should always be printed on company letterheads so your customers will know who sent them a letter.
We offer letterhead printing so your logo and contact information are delivered to your customers in bright, vivid color
70gsm-120gsm uncoated paper
Full color on the front with color or blank back
Prices include the option of full bleed on both sides
Standard size of 210X285mm can be custom trimmed to meet your needs
Option of 50 or 100 sheets per pad
Custom trim to size
Letterhead will glue on the top edge